(**LONG POST Scrap news at the bottom lol)

I always wished it was Friday. You know how it is, you wake up for work on Monday morning and say something like " Oh boy, is it Friday yet?" Well, be careful what you wish for because every time I turn around now it seems like Friday. What happened to Saturday through Thursday? I have no clue. Moving right along..............

Here in Tennessee school has started. As part of my attempt to organize my life I have started saving all of my receipts in folders for each month so when I say "Where did all the money go?" I can look in there and cringe. LOL So I was putting in the receipts on Wednesday evening - after our hour and a half trip to Clarksville to do clothes shopping for Charles because he won't wear Levis or Wranglers, and I was doing the receipts for school shopping and if I hadn't been sitting on my bed I would have fell over. Nearly $500 in clothes and supplies! And we aren't done. Now mind you, although Charles likes the more expensive clothes I only spent $150 that evening on his. He got three pairs of pants, a jacket and 4 shirts at JC Penny for that $150 so it really wasn't bad. And just a little FYI Sales tax here is 9.75%! Even on food - which is a whole other issue - don't get me started lol. But anyway, we went and got sneakers for the boys - 1 pair each $105 and that was WITH the discount (I have a FootLocker/Champs VIP card) and a $20 coupon!! They are both in a man's shoe so I don't get lucky with John's shoes being cheaper anymore lol. I won't buy cheap shoes because their feet are too important. John gets work shoes/sneakers at Wal_Mart because they get stained and absolutely disgusting on the farm where he works but that's it. I still need to get their calculators - the stores are all out of course - and a couple of little things and more clothes. But for now, they have enough to get started. I won't buy paper towels, hand soap etc. I refuse. It ticks me off that they ask for it - it's PUBLIC education which means it's free. Now, on the other hand, when my boys tell me that the teacher doesn't have enough of this or that and I see photocopy sheets coming home on notebook paper or they are having a party or something in class I will buy a ream of paper or two and some other supplies because I know a lot of the time the teachers end up having to buy these things out of their own money and that's just not right. No wonder they are all stressed out. They all start with the wonder and desire to work with children - to help them and mold them - and then they get hit with low salaries, bureaucratic baloney, and parents who think that they are babysitters and do nothing to help the teachers out with discipline or academic issues. All of my boys teachers have my cell phone number and my e-mail address. I tell them all not to worry about calling me or e-mailing me if they have a question or problems. I don't play when it comes to school. We had open house on Tuesday for John and I think I scared his math teacher lol. I am so annoyed that the children are allowed to use calculators it's not even funny. What kind of baloney is that? When I went to school we had to use scrap paper to do our work and show it all. Now they use a calculator???? Big deal you can push a button. Then they wonder why this generation is the way it is. We make things too easy. We coddle them. Well, not me, there is a fight in my house at least twice per week per child because I insist on making them do it the way I was taught. Don't just spit the answer at me, I want to know WHY that is the answer. ARGH. His poor Math Teacher LOL She said well you know there are around 300 questions on the test. My response? "What's your point?" When I took the Regents and the ASVAB and PSAT and SAT in NY we spent all day on the tests and did each one the long way BUT we knew why the answer was what it was and if we lost electricity or our batteries died it was ok cause we still had good old fashioned paper and pencil and our battery was our brain. My favorite thing though is these parents who say "I can't help him/her, I don't know the work" OK fine, then let them teach YOU! By them teaching you to do it, you are still helping them study AND you are teaching them pride because they get the ego boost of being able to teach their parent something. Where's the downside to that? You don't have time or don't want to be bothered? Then don't have kids! I swear some parents treat children like puppies. You know, awww how cute. Then the puppy starts to grow up and it chews up your furniture, messes in the house, needs it's shots etc. Suddenly it's too much of a problem. Hello people, having children is a lifelong commitment. Can't commit, don't have kids. But, I digress. Sorry lol. OK onto scrapping news.



My new SAS-Y Impromptu Challenge is up over at Stone Accents Studio and you can find the Challenge HERE. If you play along you can get this posting bonus:






I also have the link to our newest SAS-Y Newsletter. Of course it includes freebies and all the latest news ;)

SAS-Y Newsletter August 13th

The Divine Digital August DAD is still going on! Come over to the Divine Digital Forums for today's part of our "UNDER THE BIG TOP" mega kit. wetfish designs, craftybloss and myself have compiled this kit for you. Today is the 15Th which means this download will be available:






Here is what you can grab Saturday and Sunday: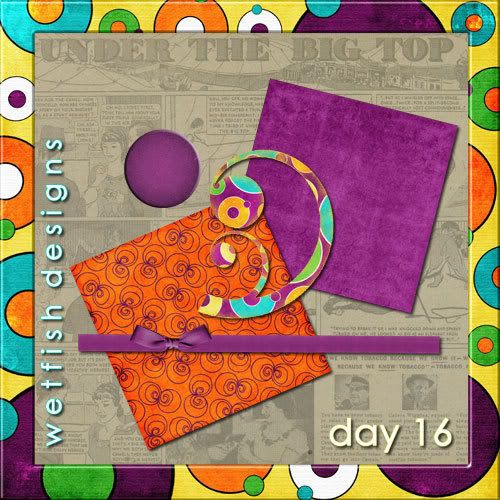 Don't forget to grab my new freebe - Peacock - in the previous post!